You k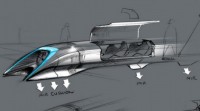 now, there are rules the national news media follow re: technology-based stories. asics france Typically to be covered, a product must be:
New, as in never been discussed before
Novel/Relevant to the audience
Available to a national audience
Affordable for a national audience
Yesterday, Elon Musk's announcement of his "Hyperloop" transportation system had almost none of this, but let's review point by point:
New — Kinda. He's talked about it before in more general terms
Novel/Relevant — Roughly more than a concept drawing and an idea, this story has zero value for anyone
Available to a national audience — Nope and won't be for many years…if ever.
Affordable for a national audience — who knows, there is nothing there.
So then why oh why would so many news outlets including USA Today, CNN, NY Times, LA Times, Chicago Tribune, Fox News, Associated Press, etc. adidas stan smith cover this amazing "vaporware" announcement and break so many of their cherished rules. goedkoop air max 2017 It's because of audience appeal. nike air max 2015 Don't forget the news is always in the business of attracting the attention of the reader/viewer and this particular "news" story really delivers. This story appeals to something very powerful for almost all of us — our desire to see just a glimpse of the future. We want to live in that world or know that we could be at some point. nike air max thea soldes So we have a sci-fi news story with no real details or actual news in it masquerading as a legitimate news story, yet we have a story with almost universal appeal. The lesson for all the companies out there is how do we tell a compelling story bigger than just what we do to the national news media? How can we capture the imaginations of millions and amplify our messages just like Musk did with Hyperloop? It's both a challenge and an opportunity.