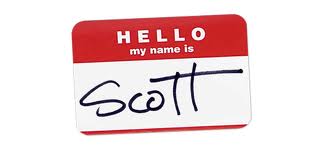 For my Provisors professional networking group, I recently was asked to do a "Member Spotlight" and let the other group members know a few things about me and my business. I thought it might make a good little blog post too because hopefully the more you know about me and the way I do business, the more inclined you'll be to engage my services should the need arise for yourself or someone you know. chaussure timberland pas cher So I framed the little presentation around 5 Interesting Facts About Me and here they are:
Before I was anything, I was a musician — Growing up idolizing bands like KISS, Motley Crue, Poison and Guns & Roses, I really just wanted to be a rock star. nike tn Why? Well, I'd love to say it was to channel my creativity and express myself, but honestly…it was to meet girls. When I was a senior in high school my parents told me that although they supported my dreams, they weren't going to fund the "Robertson Rock Star" plan. And thus, a new plan was formed — Advertising. goedkoop nike air max 2017 Specifically, heading to Mizzou to major in journalism with an emphasis on advertising and public relations. No, I wasn't there at the same time as Brad Pitt and he actually left campus 3 hours short of completing his journalism degree — SO THERE!
I moved to California because of the FBI — So after college, I bought a house and I needed some money to put on a cedar deck. So I took out a home equity loan from a company I heard advertising on the radio and that company proceeded to take my money and not return my calls. nike air max 2013 I wrote a letter to Missouri's Attorney General and one day there was a message on my answering machine from the FBI asking me to come to California to testify and put some very bad people in jail — the same people who took me also took about 3-5,000 other people across the country with their scam so it was literally a federal case. I came to LA, did my duty on the stand (right about the same time the OJ murder trial was wrapping up btw) and just fell in love with the idea of living here. I sent a few resumes around and one of them stuck and I joined a PR firm in West LA doing high tech PR. After working for a few other firms, I landed my dream job of running Marketing and Communications for NAMM, the National Association of Music Merchants. I had an amazing run at NAMM, but eventually I wanted to start building something for myself.
I opened my own PR/MarCom firm last year — I've never been afraid of change and going out on my own was a logical next step for me. Happy to say that I now have 10 clients including The Gretsch Company, Hello Music JamHub and ChordBuddy. I want my firm to continue to grow so I can make a difference for my clients and do meaningful, strategic communications work.
I love the strategy of communications — I've always felt that marketing and communications belongs in a laboratory because it's a constant experimentation with the right combination of messages, audiences and perceptions that makes it so fascinating. Marketing and PR work is about helping clients achieve their business goals and I love getting into the strategy behind doing that. It differentiates me in the marketplace too because so many marketing firms are tactical in nature and really never stop to think about what they're doing or why. I really hope that changes because honestly it's the most fun and most valuable work that marketing can do for an organization.
In May, I will be celebrating 20 years of marriage to my high school sweetheart and my first band groupie. She fuels everything that's ever been good in my life and is such a wonderful partner, friend and mother to our two kids who are pre-teen/teen now and as I'm told "the fun part" really begins. Bring it on!
BONUS FACT – I still play in bars and some parties with my cover band, Five South. If you're in the Orange County area, please "Like" us on Facebook and come out and see one of our shows.